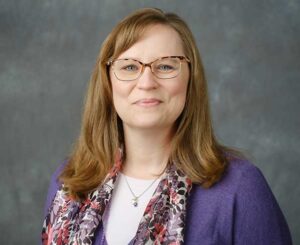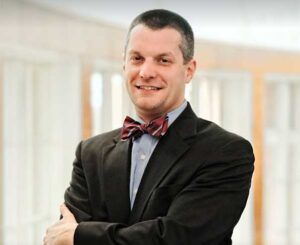 Provost Michele Gillespie is delighted to announce two new colleagues in the Office of the Provost. Anne E. Hardcastle, Associate Professor of Spanish, has been appointed Associate Provost for Academic Affairs and Matthew Phillips, Teaching Professor of Law and Ethics in the School of Business, has been appointed Senior Advisor for Strategic Initiatives, both beginning January 1, 2023. 
As Associate Provost, Hardcastle will lead academic affairs support, academic priorities, and academic program development. In partnership with other campus offices, she will also lead Provost's office programs in faculty development and recognition, hiring, diversity, and inclusion. Additionally, she will manage institutional effectiveness measures, accreditation guidelines and standards, and assessment initiatives to support and strengthen teaching and research excellence in Wake Forest's academic units. In her role, Hardcastle will oversee the Center for the Advancement of Teaching (CAT), the Center for Learning, Access, and Student Success (CLASS), the Office of the University Registrar (OUR), the Office of Institutional Research (IR) and the Office of Civic and Community Engagement (OCCE). 
Hardcastle has been a faculty member at Wake Forest since 2002, and has held leadership roles for the last 8 years, first as chair of the Department of Spanish and Italian and currently as Associate Dean for Academic Planning in the College. She has served on the Core Curriculum Review Committee, as Chair of the Committee on Academic Planning, as Chair of Chairs, and as Director of the Film Studies program. She served on the university's Covid-19 planning team and currently serves on the university's Enrollment Projection Committee. Last year she led the College's work for the 5th-year SACSCOC review. 
A faculty member in the Spanish Department, her teaching and research focus on contemporary fiction and film in Spain. Her recent scholarship explores the connection of melodrama and political feeling in films set during the Spanish Civil War. Hardcastle earned her undergraduate degree from Texas A&M University and her Master of Arts and Ph.D. degrees from the University of Virginia.
"In this new role, I am looking forward to working with Provost Gillespie and colleagues in the Provost's office to build the next great chapter of Wake Forest University," Hardcastle said. "I am especially excited to develop ways to support faculty, staff, and students across schools and programs as they create and deepen collaborative academic opportunities."
As Senior Advisor for Strategic Initiatives, Phillips will strengthen the alignment of academic priorities and press strategic initiatives forward by identifying academic organizational effectiveness opportunities, building and implementing short and long-term strategic plans, and providing comprehensive and effective strategies for the best utilization of academic resources and effort. Phillips will also work with the deans, Faculty Senate, and other university offices on faculty governance initiatives.
Phillips has worked at Wake Forest since 2008 and is currently serving as the Exxon-Calloway Fellow in the School of Business. He has had numerous leadership roles within the university including past service as associate dean for MBA programs, director of an academic center in the School of Business, and chair of the University Priorities Committee. Phillips also served as president of the Wake Forest Faculty Senate during President Wente's inaugural year where he recruited the senate's most diverse executive committee. Additionally, he served on the COVID-19 planning team.
Phillips has received numerous awards for excellence in teaching, including the "Ideas Worth Teaching" Award from the Aspen Institute in 2017, and was named the 2015 Charles M. Hewitt Master Teacher by the Academy of Legal Studies in Business (ALSB). He is now president of ALSB, which has more than 800 members and publishes three peer-reviewed academic journals. He received his undergraduate and law degrees from Wake Forest University and a Master of Divinity from Duke University.
"I'm thrilled by the opportunity to help prepare Wake Forest for its third century by supporting the inspiring work of our faculty, staff, and students and embracing the dedication and engagement that distinguishes our campus," Phillips notes.
Please join the Office of the Provost in welcoming Anne Hardcastle and Matthew Phillips to their new appointments!
Recent Posts
September 25, 2023

September 21, 2023

September 20, 2023