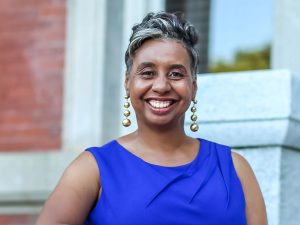 Following a national search, Warrenetta Mann has been appointed assistant vice president for health and wellbeing within the Division of Campus Life, effective September 15, 2022. In her new role, Dr. Mann will lead health and wellbeing initiatives and oversee the University Counseling Center (which includes the Safe Office), Student Health Service, and the Office of Wellbeing. She will also serve on the Campus Life executive leadership team.
"Dr. Mann is an experienced mental health professional, and I am excited to work alongside her as she steps into this new role," said Vice President for Campus Life Shea Kidd Brown. "She is deeply committed to student development, care for the whole student, supporting staff in our health and wellbeing units, and collaborating with campus leaders as COVID-19 becomes endemic. Among a competitive candidate pool, Dr. Mann's thoughtfulness, leadership, and depth of experience positioned her as an attractive candidate for this position. The past 2.5 years have changed our lives, and we need leaders like Dr. Mann to center the whole student as we work to heighten the consciousness of care on campus."
The organization of units within the assistant vice president portfolio supports an integrated care model that positions the university to respond to the needs of our community in a comprehensive and strategic structure.  
"Stepping into the role of AVP for health and wellbeing at this point in Wake Forest's history presents me with a unique opportunity to be a part of shaping how our community embraces holistic health and wellbeing moving forward.  I could not be more excited to have this opportunity."  
In June of 2021, Dr. Mann came to Wake Forest as director of the University Counseling Center from the University of South Carolina where she served as  director of Counseling and Psychiatry. Her professional career also includes roles at the University of Cincinnati, the College of William and Mary, and the University of Virginia. Along with a wealth of clinical and professional expertise and service, Dr. Mann has experience in undergraduate and graduate teaching, organizational development, and mental health consultation to the position.
Mann is a Licensed Psychologist, holding a bachelor's degree in psychology from Vanderbilt University, a master's degree in clinical psychology from the University of Louisville, and a doctorate in clinical psychology from Spalding University.  She is an active member of the Governing Board of the Association of University and College Counseling Center Directors (AUCCCD). 
The search committee for this role, which was chaired by Assistant Vice President for Campus Life and Dean of Residence Life and Housing, Matt Clifford, included university campus partners, faculty, and students. In the coming months, the Division of Campus Life will launch a search for the next director of the University Counseling Center. 
Recent Posts
December 7, 2023

December 7, 2023

December 7, 2023