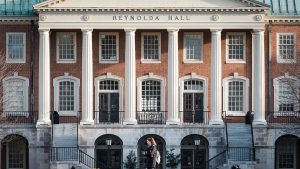 A message for faculty from the Office of the University Registrar 
Over the summer, many of the academic services accessed through Virtual Campus, such as advising information, course management, and midterm and final grade entry, were replaced with new services in Banner 9. This update results from our current Student Information System's vendor (Ellucian) no longer supporting Banner 8 after this calendar year.
When you log into win.wfu.edu and navigate to Virtual Campus, you will notice far fewer links plus a new Banner 9 Landing Page link.  The Banner 9 Landing Page contains links to the new advising, course management, and grading resources. You can reference the transition guide, linked here and in Virtual Campus, to help you navigate. 
The following step-by-step instructions were developed to help you use these new services. 
Advising

– Access student information, view enrollment status, PIN, time tickets, and holds (formerly known as Advisee Facebook).

Course Management

– Access waitlists, view rosters, see enrolled student information (formerly known as Class Facebook).

Grade Entry

– Access historical grades, enter midterm and final grades.
Additional training resources are under development and will be available soon on the Banner 9 Landing Page. 
Open labs, both in person and virtual, will be offered on the following dates. 
Please let us know if you have any questions or concerns regarding these changes at registrar@nullwfu.edu.
Recent Posts
August 10, 2022

August 9, 2022

August 5, 2022