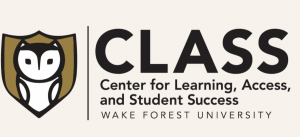 The Center for Learning, Access, and Student Success (CLASS), currently part of the Division of Campus Life, will move to the Office of the Provost effective August 15.
This strategic alignment pairs the high-quality core services and program support CLASS provides all academic programs, including those in our graduate and professional schools, with the chief academic office of the University.  These services include: disability services and accommodation guidance, academic coaching and tutoring, peer leadership and engagement opportunities for students, and partnerships with academic units and faculty.
"When we think about 'radical collaboration,' this philosophy should also connect to how we think about organizational structures," said Vice President for Campus Life Shea Kidd Brown. "As Michael, Michele and I began to think about the ways we could maximize support for students, it became apparent that this realignment made sense. I am excited Campus Life will continue to work with the CLASS team while also strengthening partnerships within the Office of the Provost. As we work to create a shared vision for the student experience, academic integration will always be at the center for me, and I am excited to see where this new structure takes us."
This realignment allows for enhanced collaboration between CLASS and the Center for the Advancement of Teaching, highlighting their shared commitment to inclusive teaching, faculty support, and academic success and excellence for all students.
"We want every Wake Forest student to have equal access to our outstanding academic experience, and we want every faculty member to know how to help their students secure that critical academic support," Provost Michele Gillespie notes. "The expertise and commitment of the CLASS staff are superb. Realigning CLASS under the Provost Office in partnership with Campus Life only enhances the outstanding teaching and learning already happening across our University."
The organizational shift is reflective of the University's strategic framework development process. This new structure for CLASS will allow greater synergy with faculty in supporting academic needs, while also maintaining a comprehensive understanding of the Wake Forest student experience.
"The move to the Office of the Provost does not impact our core services or the commitment to our mission to provide opportunities for all students to achieve academic success," said CLASS Director Michael Shuman. "Instead, this realignment allows us to strengthen our relationship with faculty and other administrative and academic units University-wide, while maintaining the strong and collaborative relationship we have established with our colleagues in Campus Life. In addition, as one of the few Reynolda campus offices to provide support to programs in the WFU School of Medicine, this strategic organizational restructuring highlights our commitment to working across the University."
The Center for Learning, Access, and Student Success is located in 118 Reynolda Hall.  Visit class.wfu.edu to learn more about the center and its services.
Recent Posts
May 25, 2023

May 24, 2023

May 24, 2023