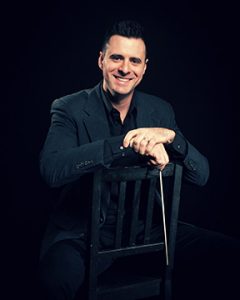 J. Aaron Hardwick's article, "Gaming and Your Ensemble," is featured in the Summer 2022 issue of North Carolina Music Educator. Hardwick is an assistant professor of music and University Orchestra Director.
The inspiration of the article is twofold. First, to promote diversity through the performance of video game music. Second, to assist educators by providing relevant and engaging strategies that can be applied to every student with minimal effort.
"I love the incredible level of diversity in gaming," writes Hardwick. Gaming, like music, is for everyone. Because video games are instantly global, students from all backgrounds can enjoy video games and their music. When programming, you can explore games from all types of histories and cultures. Video game music is inherently diverse. As a professional musician and scholar, I continually find myself applying strategies I am learning in music to the world of gaming, and vice versa."
The North Carolina Music Educators Association dedicates itself to leading North Carolina in music education, empowering generations to create, perform and respond to music. Each Issue of the North Carolina Music Educator contains timely and important information related to music education in the state.
Recent Posts
March 25, 2023

March 23, 2023

March 23, 2023