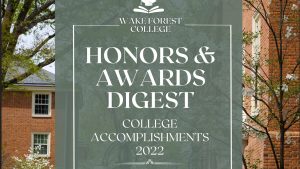 The College has much to celebrate as the academic year comes to a close. The annual Honors and Awards edition of the Dean's Office Digest is filled with faculty achievements, including this year's faculty award recipients, profiles of beloved retiring teacher-scholars, funding celebrations, promotions, appointments and much more.
The edition also celebrates student achievements, including national scholarships, summer research proposals, and department honors.
View the publication on the College website here.
Recent Posts
May 20, 2022

May 18, 2022

May 18, 2022