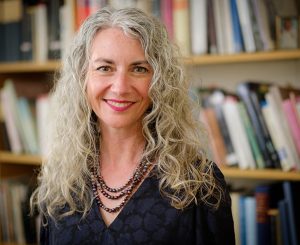 Wake Forest University has received a $60,000 grant from the National Endowment for the Humanities for The Maria Edgeworth Letters Project, a collaborative digital edition of letters written by Maria Edgeworth and shared by over 30 archives worldwide.
The project is led by English professor Jessica Richard in collaboration with colleagues from the University of Tennessee, Knoxville; Texas A & M; and Xavier University.
The Anglo-Irish author Maria Edgeworth (1768-1849) was the most commercially successful novelist of her age, yet a comparatively small number of her letters have been published. Correspondences of her literary contemporaries and predecessors – Jane Austen, Frances Burney, William Godwin, Samuel Richardson, and Horace Walpole – have been published or are in progress with major university presses. 
"There are at least 10,000 existing sheets of Edgeworth's correspondence that will almost certainly never appear in a complete print edition," said Richard. "Historical scholars have been deprived of an important female literary voice."
The prolific Edgeworth developed educational materials for parents and stories for children, tales for laboring-class and elite audiences, as well as four novels – Castle Rackrent (1800), Ennui (1809), The Absentee (1812), and Ormond (1817) – set in Ireland and critiquing Anglo-Irish relations.
Edgeworth's letters contain important contexts for her novels and educational texts. They also provide key narratives of literary and historical figures (among them Sir Walter Scott, Madame de Staël, William Wordsworth, Elizabeth Inchbald, and Frances Burney), places (including Ireland, London, and Paris), and events (such as the French invasion of Ireland, the aftermath of the Act of Union, and the great Irish famine), spanning the end of the 18th to the mid-19th century. The letters also reveal Edgeworth's own engagement in 19th-century scientific discourse and her liberal-mindedness on issues of race and inclusion.
The grant will fund the creation of a fully searchable corpus of Maria Edgeworth's letters, which are held at 26 libraries across the U.S. and United Kingdom. This is the first effort to unite them digitally.
Recent Posts
September 25, 2023

September 21, 2023

September 20, 2023