Wake Forest University announced on August 10 that beloved educator Bernard Lee "Bern" Beatty, retired associate professor of management in the business school, passed away on August 4, at the age of 92. Former students, mentees, colleagues and friends have shared stories and reflections about Beatty's profound impact on their lives. Alumni have also honored his legacy with gifts in his name, which will continue to benefit Wake Forest students for years to come.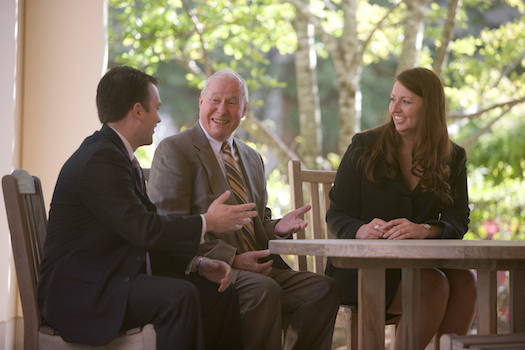 Beatty is remembered for his kindness, mentorship, generosity and the way he inspired his students to grow professionally and personally to make a difference in the world. He taught accounting, management and case writing at Wake Forest for 42 years, from 1974 to 2016. Beatty was recognized as a Babcock Educator of the Year six times between 1975 and 2003.
"Professor Beatty's impact on the lives of so many Demon Deacons is truly unmatched," said Charles Iacovou, former dean of the School of Business. Iacovou is now dean of the School of Professional Studies and vice provost for Charlotte Programs. "The engaging courses and international experiences he led over the years provided impactful learning opportunities to his students and helped them stretch their managerial acumen, critical thinking and global mindset. Professor Beatty always sought to tackle big ideas with all of his academic endeavors and invited the students to be his equal partners in those intellectual explorations," Iacovou said.
"Alumni, and particularly our MBA alumni, frequently ask about Dr. Beatty," said Michelle Roehm, interim dean of the School of Business. "They are quick to say how grateful they are for the special role he played in their development as business leaders and as citizens of the world. I was honored to serve alongside him as a colleague. He will be greatly missed."
Scholarship and Colloquium
Beatty's legacy lives on not only in the memory of his students and colleagues but also through the eponymous Bern Beatty Colloquium in Farrell Hall and endowed Bern Beatty Scholarship. The Bern Beatty Faculty Fellowship, an endowed School of Business professorship, is also named in his honor. The Bern Beatty Scholarship was established in 2004 by Charlie Ergen (MBA '76, LLD '12, P '12, P '17) and Candy Ergen (P '12, P '17) of Littleton, Colorado, in honor of Professor Beatty. The fund provides full-tuition scholarships, awarded annually, to extraordinary graduate students in the Wake Forest University School of Business.
"It is no exaggeration to say that Bern Beatty was one of the most influential people in my life. As a professor, he taught me – with great passion, expertise and excellence – the principles of business and entrepreneurship. As a mentor in the professional world, he inspired me to remain clear-eyed and flexible, ready to adapt and lead in the marketplace. And as a person, he provided loyal support, honest critique and enduring friendship. My life was changed when I met Bern Beatty at Wake Forest, and for that, I am forever grateful," Charlie Ergen said.
"We talk a lot about the qualities of a good leader, and Bern Beatty was one of the best leaders I have encountered. He led with sterling character and admirable integrity. He cared about those around him – always seeking ways to encourage and lift others up, but not at the expense of being honest and forthright," said Candy Ergen, Vice Chair, Board of Trustees. "He sought excellence from those around him, including the thousands of students who sat in his classroom and learned from his teaching. But most of all, he was deeply committed to his family – his wife, Beth, his children and grandchildren, and his extended Wake Forest family. Bern Beatty was an exemplary member of the Wake Forest community, and many will miss him dearly."
The Bern Beatty Scholarship was first awarded at the start of the 2005-06 academic year, the competitive and prestigious scholarship is granted to adventurous applicants with exceptional promise for contributing to society through the ethical application of capitalistic ideas. Financial need is also considered when candidates' qualifications are of roughly equal merit. In addition to full tuition, scholarship recipients are given priority for summer intern positions with EchoStar Communications Corp. (Dish Network) when internships are available.
Since 2005, there have been nineteen Bern Beatty Scholars who have received awards totaling $1,045,065.
Read more on the School of Business website.
Recent Posts
March 25, 2023

March 23, 2023

March 23, 2023