Joshuah Brian Campbell will join Wake Forest University this year as director of music and arts at the School of Divinity and director of the University Gospel Choir.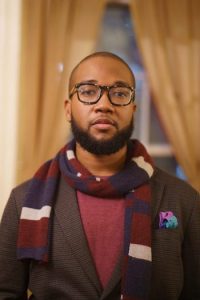 Campbell, a Grammy and Oscar-nominated composer, will collaborate with choral groups across the University to contribute to dynamic worship and concert experiences, including weekly worship at the Divinity School. His work leading the Gospel Choir will include performances of music inspired by the African American sacred tradition.
"I am elated that Joshuah Brian Campbell will bring his extraordinary gifts to benefit our students and the Wake Forest community," said Jonathan Lee Walton, dean of the School of Divinity and Wait Chapel. "His appointment represents a commitment to ensuring this grand tradition of gospel music will continue on our campus at the highest levels."
Campbell captured the world's attention as an undergraduate at Harvard University when his original song "Sing Out/March On," written and performed for the late civil rights icon John Lewis, went viral. The widespread acclaim of his performance caught the attention of Hollywood; Campbell's original composition, "Stand Up," for the biopic "Harriet," co-written with the film's lead Cynthia Erivo, earned Grammy, Oscar, Golden Globe and Critics Choice nominations. Campbell and Erivo won the World Soundtrack Award.
Campbell, who also holds a Master of Divinity degree from Union Theological Seminary in the City of New York, first shared his talents with Wake Forest during the spring 2021 semester as an artist-in-residence at Wait Chapel. He worked with students and alumni of the Gospel Choir to prepare for the annual Easter service performance. Campbell returned to work with Professor Christopher Gilliam, director of choral activities, in preparation for the Wake Forest undergraduate commencement ceremony at Truist Field.
"I am looking forward to directing and mentoring the student artists in both the Gospel Choir and School of Divinity. I am positive that the learning experience will be mutual," said Campbell. "I come from many musical legacies and traditions birthed in community fellowship. Gospel is one of the richest and transformative forms of music because it causes people to relate to each other. I am excited to grow with the Wake Forest community as I help to facilitate faith expression and artistic formation."
View the full story and learn more about the Wake Forest University Gospel Choir on the School of Divinity website.
Recent Posts
March 25, 2023

March 23, 2023

March 23, 2023