Hybrid Work: Inclusive Tip #3
To promote inclusivity, be sure any conversations that occur on-site after a video conference ends are documented in the minutes for remote participants.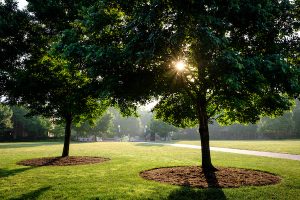 Learn more » is.wfu.edu
Weekly Wellbeing Tip: Relieve Tension
At times we don't even realize we are furrowing our brows or holding a tense jaw. A few minutes spent relaxing just the muscles of the face can relieve tension and anxiety in our entire bodies.
Learn more » youtube.com
Dependent Care FSA Limit Increase
For the 2021 plan year only, the American Rescue Plan Act has increased the dependent care flexible spending account annual limit up to $10,500 (increased from $5,000) for married taxpayers and up to $5,250 (from $2,500) for single taxpayer filers. Individuals may increase their monthly contributions via Workday.
CREF Money Market R2 Accounts
Those with a CREF Money Market R2 retirement account, which was closed to new contributions for WFU employees in 2016, will likely experience a negative return in July 2021 due to the expiration of a management fee waiver. Contact TIAA at 800.842.2776 or tiaa.org with questions.
Learn more » hr.wfu.edu
Inclusive Excellence for Leaders: June 9
The Office of Diversity and Inclusion invites those with responsibility for leading diversity, inclusion, and equity efforts within their organization or department to this 90-minute workshop.
Register » pdc.wfu.edu
New Staff Orientation: June 9
Newly hired staff are invited to register for an upcoming New Staff Orientation, which provides important information about joining the Wake Forest community.
Register » pdc.wfu.edu
TIAA Advice Sessions: June 9
A TIAA financial consultant will be available for individual 30-minute consultations to discuss retirement planning. Available for free to all faculty and staff.
Register » pdc.wfu.edu
Digital Accessibility Conference: June 10
The NC Higher Ed Digital Accessibility Collaborative is hosting a free virtual conference, which is open to everyone in higher education in North Carolina. Topics range from accessible instructional materials to web accessibility and more.
Register » ncsu.edu/2021a11yconference
Wake Forest Fellows announced for 2021-22
ICYMI: Ten 2021 grads will return to WFU as Wake Forest Fellows, a one year, full-time staff position, beginning July 1.
Read more » inside.wfu.edu
Recent Posts
June 10, 2021

June 10, 2021

June 9, 2021