The following is a guest post from Wake Forest Information Systems (IS) Communications.
Isabella Ryan, 2020-21 Wake Forest Fellow for IS, wrote and submitted a bill to limit the use of solitary confinement for children in juvenile detention centers in Tennessee. Ryan's bill has passed the State Senate and House, and it is headed to the Governor to be signed into law.
---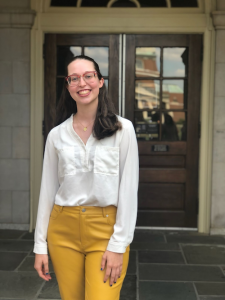 Twenty-three and a half hours a day, alone, in an 8' by 8' room. The impact of solitary confinement on children is immense. Many emerge with significantly impacted mental health and report signs of PTSD. Further, 50% of juvenile suicides in detention facilities occur while a child is in solitary. This is the reality of solitary confinement for minors in Tennessee.
However, thanks in large part to the persistent efforts of Nashville native Isabella Ryan ('20), it will soon no longer be the case. In 2015, as a junior at Hume-Fogg High School, Isabella, co-wrote a bill with her classmate to limit the use of solitary confinement for children in Tennessee. In 2016, Isabella contacted State Senator Jeff Yarbro with a copy of the bill. Senator Yarbro quickly introduced the bill and has continued to do so ever since. Finally, after five years of Isabella's advocacy, the bill passed the State Senate unanimously and nearly unanimously in the State House, with only one dissenting vote. This means limits on how long and why children can be in such restrictive environments will soon be in place. The bill is now headed to the Governor to be signed into law. 
As an undergraduate, Isabella earned a double major in economics and anthropology, while also being involved in student government, serving as a resident advisor, and taking an active role with the Office of Civic and Community Engagement.
Isabella previously interned in a congressional office where she performed data analysis, at the Tennessee State Museum where she developed content for touch screen elements, and at the American Civil Liberties Union where she assisted with research and report writing. In her year as the IS Fellow, she engaged heavily with the Technology Accessibility Project, the security team, and the communications team.
Isabella and her desire to effect change exemplify the Wake Forest motto of Pro Humanitate. Her impassioned efforts to 'use her knowledge, talents and compassion to better the lives of others,' combined with her experiences as a Wake Forest will serve her and her colleagues well as she enthusiastically assumes her new role as special assistant to the VP for Information Technology & CIO Mur Muchane on July 1.
Recent Posts
June 5, 2023

June 1, 2023

June 1, 2023