COVID-19 Update
Colleagues are invited to attend an upcoming Faculty and Staff COVID Update at 4 p.m. on Thursday, May 20, for updates on summer operations and fall planning. Zoom webinar details will be emailed to faculty and staff in the coming week.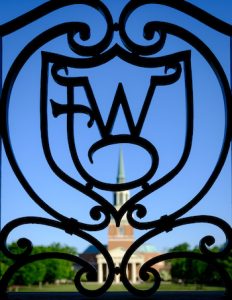 NC COVID-19 restrictions: Last week, Gov. Cooper announced a new executive order relaxing the outdoor mask mandate and easing mass gathering limits. Executive Order No. 209 went into effect April 30 and is set to expire June 1, at which point the state anticipates lifting more restrictions.
Under this executive order, masks are still required indoors. Although the order no longer requires use of masks outdoors, it does encourage face masks in crowded, dense outdoor settings, which is often the case on our campus. The CDC has also created a visual guide for mask wearing.
Mass gathering limits are also permitted to increase under the executive order from 50 to 100 indoors and from 100 to 200 outdoors. The University will continue to follow the guidance of our public health experts and will communicate any changes to on-campus gathering restrictions as protocols are confirmed.
Weekly Wellbeing Tip: Unplugging
Taking a break from tech can help you fully restore between busy times in your personal and professional life. Consider a phone free hour each day, picking up a screen-free hobby or even committing to a full weekend away from screens.
Learn more » screenlifebalance.com
Thank a Colleague
Faculty and staff are invited to participate in the "Thank a Colleague" program, an initiative created by The Center for the Advancement of Teaching to recognize your colleagues' efforts.
Learn more » cat.wfu.edu
Summer Immersion & Summer Exploration Programs
Wake Forest is waiving the registration fee for children of faculty and staff to attend the Summer Immersion Program (high school students) or the Summer Exploration Program (middle school students).
Learn more » summer.wfu.edu
Last Day of Class: May 6
Tomorrow is the #LDOC for undergraduate students, with final exams beginning May 8 and concluding May 15. Undergraduate commencement will be held Sunday, May 16, at Truist Field, with featured speakers Condoleezza Rice, Pete Buttigieg and Kendall Hinton.
Read more » news.wfu.edu
Remember with Us: May 7
During a virtual event on Friday, May 7, at 5 p.m., members of the greater University community will read the names of the enslaved individuals who worked for or were sold to benefit the University.
Register » events.wfu.edu
Artisans' Fair: May 7-8
The Spring 2021 Artisans' Fair will be held virtually via Facebook on May 7-8. Check out the creations made by colleagues, students and retirees just in time for Mother's Day.
Learn more » facebook.com/WFUArtisansFair
Reynolda Community Day: May 8
Enjoy free admission to the Museum and outdoor exploration, weather permitting, along with read-aloud for families, and take-home art activities.
Register » reynoldagardens.org
The Uncertainty of the Times: Ends May 9
Curated by Wake Forest students, "The Uncertainty of the Times" explores how viewers interact with art and with each other during this time of global crises.
Learn more » reynoldahouse.org
ResilientWake Skillshare: May 10
Join the Office of Wellbeing to learn how to identify and amplify the positivity and strengths you already have and get tips on how to practice gratitude daily.
Register » pdc.wfu.edu
Commencement for 2020 Grads
ICYMI: Last week, the University announced that an in-person commencement ceremony for 2020 graduates will be held September 17-19, 2021.
Read more » ourwayforward.wfu.edu
Recent Posts
June 10, 2021

June 10, 2021

June 9, 2021