Main Content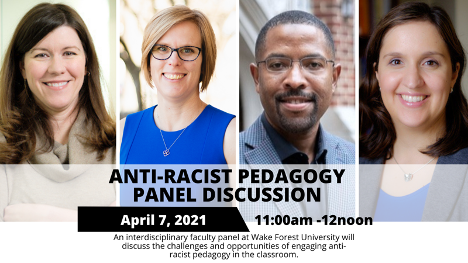 The Wake Forest University School of Divinity will host a virtual faculty panel on anti-racist pedagogies on Wednesday, April 7, from 11 a.m. to noon. The event offers faculty across the University the opportunity to think more deeply, dialogue more broadly and act more decisively in implementing anti-racist pedagogies in their courses. The interdisciplinary panel will discuss the challenges and opportunities of engaging anti-racist pedagogy in the classroom.
"Grassroots movements across the U.S. are urgently calling for bold action to eradicate racial injustice and violence at its core," said Jill Crainshaw, Vice Dean for faculty development and academic initiatives. "Through intentional dialogue, we hope to explore our role as educators in embodying bold action through teaching and ways to enhance our pedagogy to better prepare students for critically conscious, anti-racist leadership."
The conversation will be moderated by Betsy Barre, executive director of the Center for the Advancement of Teaching.
Panelists include:
Katherine A. Shaner, associate professor of New Testament
Corey D. B. Walker, Wake Forest professor of the Humanities
Betina Cutaia Wilkinson, associate professor and associate chair of Politics and International Affairs, and director of the Race, Inequality and Policy Initiative (RIPI)
This event is co-sponsored by the WFU Race, Inequality and Policy Initiative (RIPI) and made possible through a departmental grant from the Program for Leadership and Character.
Recent Posts
April 12, 2021

April 9, 2021

April 8, 2021