Main Content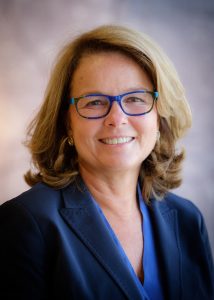 Wake Forest University has appointed Emily Neese ('81, P '13, P '16) vice president for finance, strategy and planning, effective April 16. Neese currently serves as the vice president for strategy and operations and with this new role will add the responsibility of overseeing the University's finance department.
"Emily is a strong leader with an excellent grasp of the challenges facing higher education, particularly with respect to financial resources," executive vice president Hof Milam said. " I am looking forward to what we can accomplish by combining budgeting and finance under her oversight, coupled with the talented and experienced staff she will be leading."
Since joining Wake Forest in 2006, Neese has guided key strategic initiatives across the Reynolda Campus, including developing a staffing model and budget to support the Wake Will Lead Campaign, the largest capital campaign in Wake Forest University history. She also led the strategic planning, design, and implementation of the Wake Downtown programs and renovations in Building 60 at Innovation Quarter. Most recently, she has been part of the team that envisioned the new College Academic Commons.
"I'm looking forward to bringing these two great teams together to collaborate in new and different ways," Neese said. "I'm confident that we can more effectively manage the cascade of information and decisions we face daily to be better positioned to support our University partners."
Neese currently serves as the co-chair of the COVID-19 Scenario Planning Team, responsible for guiding the University's response to the pandemic. In this role, she is charged with collaborating with cross-functional planning teams to solve for the complexities in human resource planning, COVID-19 resource allocations, public health concerns, and operational challenges that arose due to the pandemic.
"Working closely with Emily on multiple levels, from broad COVID scenario planning to focused budget analyses of academic programs, gives me great appreciation for her remarkably comprehensive view of Wake Forest," said provost Rogan Kersh. "Her ability to translate complex strategies and budget arrangements with maximum clarity, and to see possibilities for supporting teaching and research/discovery that aren't immediately apparent, affirms her excellent arts/humanities and sciences training as a Wake undergraduate."
Prior to Wake Forest, Neese served as chief financial officer and then president of a privately held Winston-Salem company that grew from 65 to more than 1,600 employees. As a CPA, she also spent more than a decade in public accounting with KPMG and EY, focusing on complex tax issues.
"These broad experiences have allowed me to hone my skills in strategic problem solving, management of large, complex problems and situations," Neese said. "I deeply value the power of collaboration and appreciate the complexities of managing strong staff who navigate their responsibilities with technical expertise and strong organizational skills."
A Wake Forest alumna, Neese received her Bachelor of Science in Accounting. She also serves the Winston-Salem community as a board member for the ABC of NC Child Development Center and the Centers for Exceptional Children.
Recent Posts
April 12, 2021

April 9, 2021

April 8, 2021