Main Content
The following message is shared on behalf of Mur Muchane, vice president for information technology & CIO.
Beginning this semester, the IS Service Desk is extending the hours of support as follows: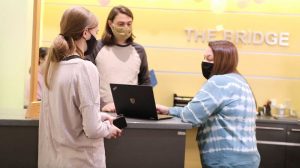 AskDeac, Email and Live Chat are available 8 a.m. – 9 p.m. Monday through Friday.
Phone support is available 8 a.m. – 5 p.m. Monday through Friday.
Walk-in support is available 8 a.m. – 9 p.m. Monday through Friday, 12 – 5 p.m. on Saturdays and 4 – 10 p.m. on Sundays. However, as we continue to socially distance, we encourage you to contact us first via one of the channels above to determine if you need to schedule a visit.
Hours may be affected by holidays and campus closings. Please visit the Service Desk page for the latest about updated hours for phone, walk-in, live chat and AskDeac support.
Our new evening time Service Desk Analyst will be available to assist you with account issues, Canvas questions, connectivity troubleshooting and more. Canvas users are also encouraged to continue to utilize our WFU-dedicated 24/7 Canvas Support line at 833.383.5792.
As a reminder, in the event of a system outage or maintenance, visit the Statuspage by navigating to:
Please also consider opting-in to receive real-time outage alerts by selecting Subscribe to Updates on the Statuspage.
Best wishes for a Happy New Year and successful spring semester, Mur
Recent Posts
January 20, 2021

January 19, 2021

January 16, 2021