Main Content
It's been nearly one year since filmmaker and Wake Forest associate professor Joel Tauber undertook "Border-Ball," a 40-day pilgrimage along the U.S.-Mexico border to build community through baseball.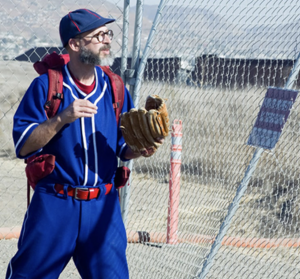 Wearing a custom vintage baseball uniform and backpack in blue, white, and red, Tauber tossed a baseball as he walked along the border and invited people to walk with him and play catch. He filmed people he met and gathered personal reflections and stories related to the border and immigration.
A virtual exhibition on Tauber's pilgrimage exploring immigration, compassion and hope will open on Saturday, Oct. 17 with ArtCenter DTLA in Los Angeles, California, launching the online premiere of the "Border-Ball" documentary.
The film will be available to the public through the ArtCenter's virtual exhibition page on Oct. 17 and 18. The "Border Ball" trailer is available here. The exhibition page also includes links to a blog where visitors can share their own immigration stories and read those shared by others.
Read more on the Wake Forest News website.
Recent Posts
October 22, 2020

October 22, 2020

October 21, 2020