Main Content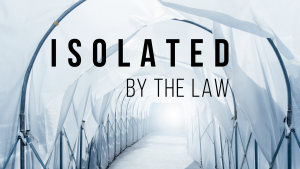 The following is a guest post from the School of Law:
As the United States and the world examine the effects of wide-scale quarantine in the midst of the COVID-19 pandemic, understanding the legal, ethical, social, and economic impacts is crucial. The coronavirus has exposed numerous faults in our systems and finding solutions will be the focus as we move forward.
That is why Wake Forest University School of Law is pleased to announce Isolated By The Law, a fully online, self-paced symposium. Featuring a dozen nationally recognized experts who examine domestic and global health policy from multiple perspectives, Isolated By The Law offers thought leadership vital to overcoming the challenges raised by COVID-19. It is free and open to the public.
Isolated By The Law is an update of the 2018 symposium presented by the Wake Forest Journal of Law and Policy that explored the legal and ethical implications surrounding quarantine during public health emergencies. It was a forward-thinking exploration of these important concerns, viewed through the lens of the SARS and Ebola crises.
"We couldn't know then how critically important this symposium would become," said Chris Coughlin, a Wake Forest Law professor who leads the symposium. "Now more than ever we need scientists, lawyers, and public health experts to work together to navigate the pressing issues that are exposing numerous cracks in our system. In just two weeks, we reached out to former speakers and new experts to bring this symposium to a new online format."
A dozen nationally recognized experts from a range of disciplines cover many of the significant issues that have surfaced as a result of the coronavirus, including the balance between public health interests and individual rights, vulnerable populations in the time of pandemic, and new public policy concerns, among other timely issues and topics.
"These experts have extensive experience in these areas, conducting research and examining outcomes for years, sometimes even a decade or more. Because of that, they bring a thoughtful approach to the discussion, especially around the unintended consequences of various courses of action," Coughlin said.
Isolated by the Law is sponsored through the collaboration of the Wake Forest School of Law, its Journal of Law & Policy, its Health Law and Policy Program, the Wake Forest University Center for Bioethics, Health & Society, Office of the Provost, and Awaken: The Creative Journal of Contemporary Bioethics.
Recent Posts
May 22, 2020

May 20, 2020

May 19, 2020