Main Content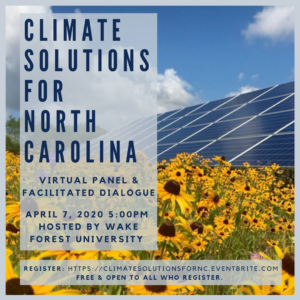 The following is a guest post from the Office of Sustainability and the Office of Civic & Community Engagement:
The Office of Sustainability will host a webinar called  Climate Solutions for North Carolina on April 7. We hope this virtual panel and dialogue will provide an opportunity for students, faculty, staff and others to connect over meaningful discussion about climate solutions for our state.
The event will begin with a virtual panel of leaders that will offer state-wide perspectives on climate solutions: accelerating innovation, preparing and protecting communities, and reducing GHG emissions. A recorded link to this portion will be available following the event. Panelists include:
Jessica Whitehead, Ph.D., Chief Resilience Officer, North Carolina Office of Recovery and Resiliency | N.C. Emergency Management
Elizabeth Ouzts, Journalist | Energy News Network; Former Director of Communication | Environment America
Steve Kalland, Executive Director | N.C. Clean Energy Technology Center
Following the panel, the Office of Civic & Community Engagement will moderate a deliberative dialogue on climate choices.
The webinar is free and open to all who register. You can learn more and register here. Each person should register individually. This is part of a national network of events across the U.S. called  Solve Climate by 2030; Wake Forest is the host campus for NC.
Recent Posts
May 22, 2020

May 20, 2020

May 19, 2020