Main Content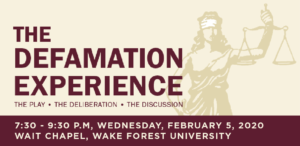 The following is a guest post from Cherise James, associate director of orientation and lower division programming:
The Wake Forest University community is invited to an evening of theatre, engagement, and dialogue through The Defamation Experience on Feb. 5 at 7:30 p.m. in Wait Chapel. A riveting courtroom drama, written by award-winning playwright Todd Logan, will unfold under your eyes — and you will deliberate and vote on the verdict! After the votes are tallied, a facilitated post-show discussion will explore a dialogue of race, class, religion, gender, and the law that promises to stimulate critical discussions and challenge preconceived notions.
To learn more, please visit: go.wfu.edu/defamationexperience. The cost is free to all Wake Forest University students, faculty and staff.
Special thanks to the following offices and departments for their contributions and support:  The Office of the President, the Office of the Provost, the Dean of the College, the School of Business, the School of Divinity, the School of Law, the Department of Education, the Philosophy Department, the Office of Residence Life and Housing, the Politics and International Affairs Department, the Theatre and Dance Department.
Recent Posts
July 2, 2020

July 2, 2020

June 30, 2020