Main Content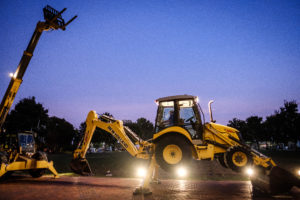 Housekeeping staff, arborists, turf crew members, locksmiths and carpenters were among the nearly 70 participants performing on Hearn Plaza in the original dance piece "From the Ground Up." Performances were held on Oct. 3, 4 and 5.
Click here to download the program.
More than two-and-a-half years in the making, "From the Ground Up" was a collaboration between Wake Forest and Forklift Danceworks, a dance company based in Austin, Texas, whose mission is to use creative dance to build community. Cindy Gendrich, theatre professor and director of the University's Interdisciplinary Performance and Liberal Arts Center (IPLACe); Christina Soriano, dance professor and associate provost for the arts and interdisciplinary programs at Wake Forest; and John Shenette, vice president, facilities and campus services, were the forces that helped move the project forward.
For more information and a video about the production, visit here.
Recent Posts
September 18, 2020

September 18, 2020

September 17, 2020