Main Content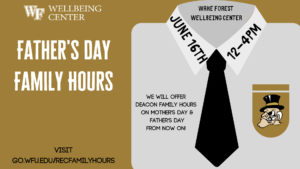 A special block of Deacon Family Hours has been scheduled in honor of Father's Day on Sunday, June 16, at the Wellbeing Center.
The Wellbeing Center, routinely, offers Deacon Family Hours on Saturdays from 9 a.m. to 1 p.m.  Deacon Family Hours provides an opportunity for anyone with an active Wellbeing Center membership to  bring their family members to the Wellbeing Center.  Access is complimentary to designated recreational areas during that time for family members.
On Father's Day, Deacon Family Hours will take place from 12 p.m. to 4 p.m.
Additional details are available here.
Recent Posts
May 22, 2020

May 20, 2020

May 19, 2020