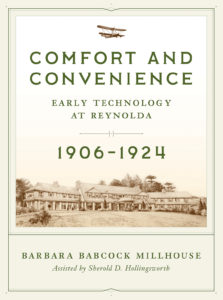 A new book has been published about the technology installed in Reynolda House that made it something of a modern marvel when it was constructed.
Written by museum founder Barbara Babcock Millhouse, it is entitled "Comfort and Convenience: Early Technology at Reynolda, 1906-1924."
"I started out thinking this would be a brochure, and I ended up with a 167-page book," Millhouse says. "Advances in household technology allowed the family and employees to benefit from greater comfort and convenience than had been available for the previous generation."
The book is available for purchase at Reynolda House Museum of American Art.
More information is available here.