President Nathan Hatch emailed this message to students, faculty and staff on April 24, 2019.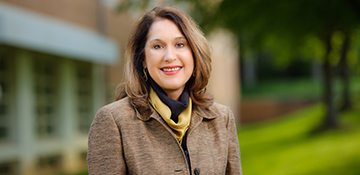 Dear Wake Forest Students, Faculty and Staff,
It is my pleasure to inform you that Wake Forest University has chosen Jane Aiken to become the next Dean of the School of Law, effective July 1.
Dean Aiken comes to Wake Forest from Georgetown Law, where she has been a professor and administrator since 2007 and currently serves as the Blume Professor of Law.
Her distinguished career as an attorney, an advocate and a teacher-scholar – particularly in the areas of legal education, women's rights and evidence – makes her exceptionally well qualified to lead our School of Law. Her leadership, vision and energy are exactly what we need to develop the brightest legal minds in the tireless pursuit of justice.
At Georgetown, Dean Aiken founded the Community Justice Project to enable students to represent clients in cases involving questions of justice where remedies are often transactional, policy-based or require extraordinary measures for adjudication. She has served as Associate Dean for Experiential Education and then Vice Dean for the Law Center, and she currently chairs the University Task Force on Gender Equity.
Prior to joining the Georgetown faculty, Dean Aiken was the William Van Cleve Professor of Law at Washington University in St. Louis. While at Washington University, she was selected as a Fulbright Scholar to teach law at Tribhuvan University in Kathmandu, Nepal. She has also taught in law schools at University of South Carolina and Arizona State University.
I am grateful to members of the search committee – chaired by Provost Rogan Kersh and guided by members of the Board of Trustees, Board of Visitors, faculty, staff, and law students – for bringing Dean Aiken to Wake Forest. I am confident her leadership will further strengthen Wake Forest's position among the nation's top law schools and I look forward to welcoming her to campus.
Sincerely,
Nathan O. Hatch
President
Recent Posts
March 25, 2023

March 23, 2023

March 23, 2023