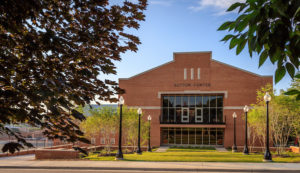 This is a guest post from the University's Wellbeing Center: 
The Wake Forest Wellbeing Center is pleased to announce Deacon Family Hours.
Starting Saturday, Feb. 2, the Wellbeing Center (also known as Reynolds Gym) will be offering Deacon Family Hours every Saturday from 9 a.m. until 1 p.m.  During Deacon Family Hours, Wellbeing Center members will be permitted to bring up to four guests free of charge.  One of the guests can be a spouse/partner and the rest minors under 18 years of age.
All benefits-eligible faculty, staff and retirees receive complimentary memberships to the Wellbeing Center.  Non-benefits eligible employees may purchase a membership.  The purpose of Deacon Family Hours is to provide an opportunity for members of the Wake Forest community to bring their kids and grandkids to enjoy the pool, climbing wall, and gyms.  Minors will not, however, be permitted in cardio and weight room areas.
If you have questions, please contact the Wellbeing Center at campusrec@nullwfu.edu and x7178.