Main Content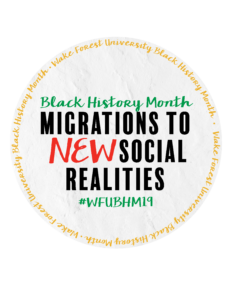 This is a guest post of Wake Forest's Intercultural Center:
Wake Forest's Intercultural Center and the Black History Month Committee have announced a month of Black History Month events and activities on the center's website. The theme for Black History Month 2019 is "Black Migration: New Social Realities." The theme emphasizes the movement of people of African descent to new destinations and social realities to seek a better life.
Kicking off the month will be a Feb. 1 event in Wait Chapel featuring Renée Elise Goldsberry. The Tony and Grammy Award-winning star of the Broadway musical "Hamilton" will speak and perform. On Feb. 7, at 6 p.m., the Journeys to Success Speaker Series and Black History Month Keynote Speaker Ron Stallworth will be speaking in Wait Chapel about his experiences integrating the Colorado Police Department.
Other events and activities planned for February include the Black Professionals Forum with alumni; a dialogue on the intersections of Black LGBTQ Experiences; a trip to the International Civil Rights Center & Museum and a film screening and book discussion on "The Hate You Give." Additionally, the Office of Wellbeing will host food tastings with Gold Apron and several Wellbeing Wednesdays events highlighting cultures across the African diaspora.
Recent Posts
May 22, 2020

May 20, 2020

May 19, 2020