Main Content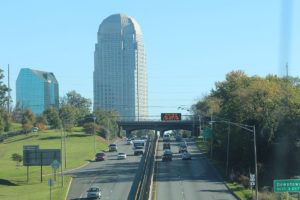 Business 40 downtown will close at 8 a.m. Sunday, Nov. 11, for a long-anticipated reconstruction of a 1.2-mile stretch of the highway, the Department of Transportation announced Oct. 16.
The $100 million project, expected to be completed in 2020, will include replacing the roadway between Highway 52 and Peters Creek Parkway, as well as constructing nine traffic bridges and two pedestrian bridges.
Extensive details on the project are included in the department's announcement.  The transportation department also maintains a website and a Facebook page devoted to the project that contain frequent updates.  Detour information, maps, a construction timeline and FAQs are provided by the transportation department on the website, for instance.  Commuter resources are available, including information about public transit.
Wake Forest's Transportation and Parking Services website also offers a link to potential opportunities for Wake Forest faculty and staff to use public transit. The information is available through the Alternative Modes of Transportation link on the website.
News of the closure date was announced by numerous local news outlets this week, including the Winston-Salem Journal and TV stations WXII, WGHP, WFMY and Spectrum News Triad.  All have stories covering the announcement on their websites.
Pat Ivey, the state transportation department's local division engineer, is scheduled to speak about the Business 40 project at a Staff Advisory Council meeting on Nov. 13 at 9 a.m. in Benson University Center, Room 401 B/D. Staff and faculty are invited to the presentation.
Highlights from the state transportation department announcement include:
Beginning Nov. 11, all Business 40 traffic will be diverted to I-40, Peters Creek Parkway and U.S. 52. Vehicles will be able to take these exits but not drive past them.
Motorists are encouraged to use the cellphone app Waze, which offers route options.
Not all of Business 40 will close. Only the 1.2-mile section in downtown Winston-Salem will close.
Even though the construction of Business 40 and 11 new bridges is slated to last up to two years, efforts are underway to open the road in early 2020.
A portion of the highway from Main Street to U.S. 52 could reopen as early as spring or summer 2019.
Recent Posts
May 22, 2020

May 20, 2020

May 19, 2020