Main Content
A guest post from Mur Muchane, Vice President for Information Technology & CIO
Please join us on Friday, September 7, from 1 p.m to 4 p.m., for the grand opening celebration of the One Button Studio, located behind the Information Systems Service Desk, in the Z. Smith Reynolds Library.
As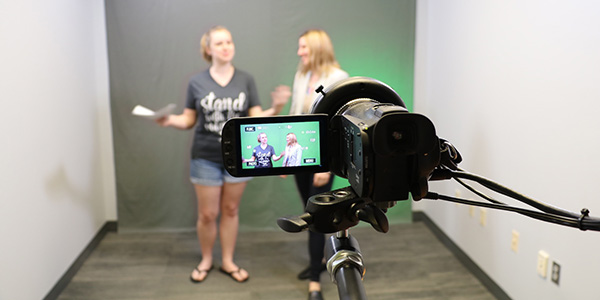 part of Information Systems, Academic Technology facilitates the innovative and imaginative use of technologies to enhance and strengthen teaching and learning at Wake Forest. The introduction of the One Button Studio is another step forward in meeting the pedagogical needs of our campus community.
Throughout higher education, students are producing digital artifacts such as short documentaries and podcasts to either replace or support more traditional evidence of learning.
The One Button Studio is a simplified video recording setup that can be used without any previous video production experience. The design of the studio allows you to create high-quality and polished video projects without having to know anything about lights, microphones and cameras. You only need to bring your USB thumb drive and push a single button.
In addition, as more and more instructors integrate multimedia projects into their courses, Information Systems has responded with enhanced, end-to-end support for faculty interested in learning more about this new resource. Full-time staff are on hand to provide guidance on design, implementation, support, and assessment. Our new One Button Studio website is also a valuable resource for learning more about the studio and the many pedagogical benefits of this new academic technology.
I hope you will join us at the grand opening as we introduce the One Button Studio to our campus community.
Recent Posts
June 5, 2020

June 4, 2020

June 3, 2020