This is a guest post from the Department of Art and Reynolda House:
The digital age has radically expanded the ways in which we encounter photography.  In our current moment of Photoshop and "fake news," Associate Professor of Art Morna O'Neill asks her students, "What can we know from a photograph?"  O'Neill considers this question in the classroom as part of Art 259: The History of Photography, a course she alternates with her colleague Jay Curley. It's also the central theme of "After Documentary: Photography, 1980-Present," a new exhibition curated by her students that opened July 31 at Reynolda House Museum of American Art.
"Photographs are ubiquitous, so we run the risk of taking them for granted," O'Neill says. "What I try to do is restore some strangeness to the photographic image, which is often associated with notions of truth and reality. Our discussions examine the contested status of the photograph in relation to authenticity and power."
When photography was introduced to the public in 1839, commentators immediately praised its ability to provide an accurate representation of people and events. This belief in the ability of the photograph to show us the world as it is led to the idea of documentary photography by the 1930s, when artists such as Dorothea Lange used the camera as a tool to explore social situations and create a record of lived experience.
The student-curated exhibition was inspired, in part, by Reynolda House's major fall exhibition opening Sept. 14, "Dorothea Lange's America," which presents Lange's haunting photographs of 1930s and 1940s America and features some of the most iconic images of the 20th century. O'Neill challenged her students to explore the ideas that would be presented in "Dorothea Lange's America" and make connections to photographs in the Student Union Collection of Contemporary Art.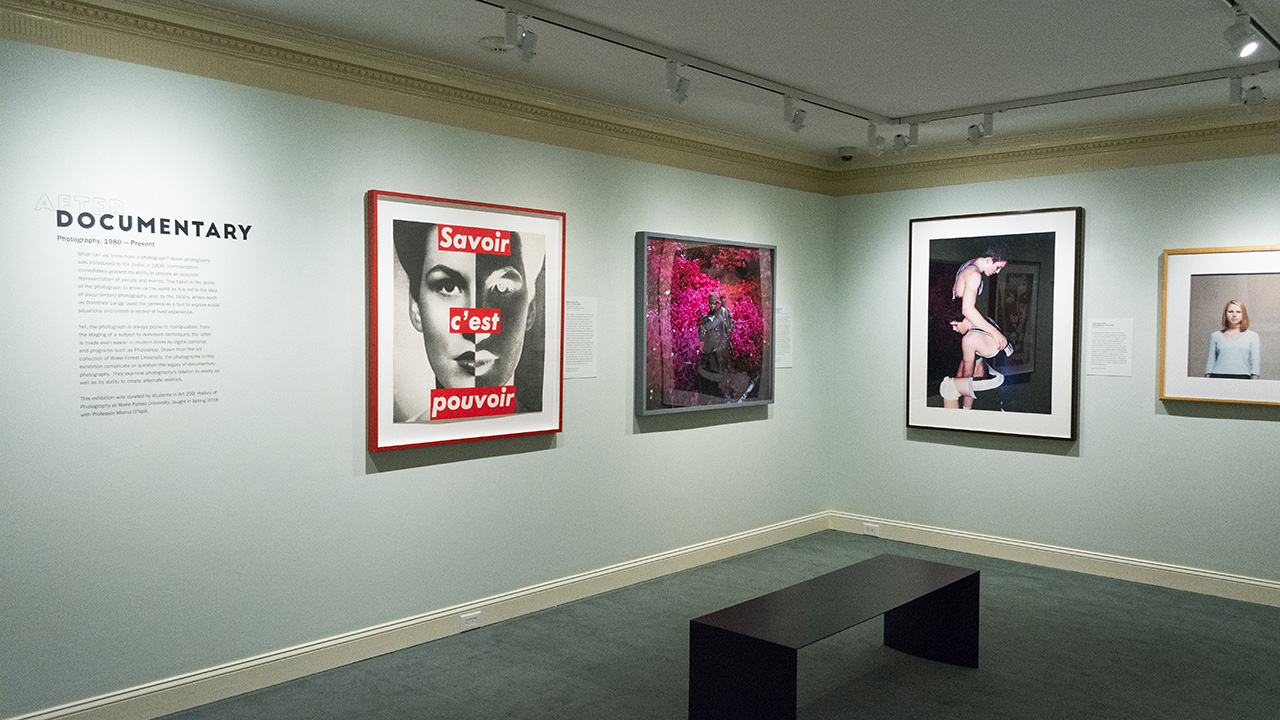 Established in 1962, conceived by students, and purchased entirely with University funds, the Student Union Collection of Contemporary Art is one of the only collections of its kind. Every four years, a group of students works with an Art Department faculty member to research the contemporary American art scene, then travels to New York to purchase new works. The collection includes more than 160 different pieces by over 100 different artists. Artists represented in "After Documentary" include Barbara Kruger, Richard Mosse, Collier Schorr, Sandy Skoglund, Andrew Moore, Thomas Struth, and Julie Moos. O'Neill says she's particularly inspired by photographers. Read more about the most recent art-buying trip and acquisitions here.
"I've loved working with Reynolda on previous exhibitions at the museum featuring the work of photographers like O. Winston Link (2011), Edward Steichen (2013), and Ansel Adams (2016), and asking students to think about the curatorial decision-making process as well as the important works of art," O'Neill says.  She worked closely with Reynolda House Curator Allison Slaby to determine which works in the University's collection would complicate or question the legacy of documentary photography, and students then explored these works in a research project that asked them to consider a theme that unites the works in "After Documentary" with the broader history of photography. The students also considered how best to communicate the ideas of their research to a gallery visitor.
"The photograph is always prone to manipulation, from the staging of a subject to darkroom techniques," says Elizabeth Hall '19. "The works in this exhibition explore photography's relation to reality as well as its ability to create alternate realities."
"After Documentary: Photography, 1980-Present" will be on view through Dec. 30. Admission to Reynolda House, including "After Documentary" and "Dorothea Lange's America" is free for Wake Forest students, faculty, and staff. Several programs and events will be offered throughout the season, including two gallery talks with student curators.
Gallery Talks with Wake Forest University Student Curators
Free for Wake Forest students, faculty, and staff
September 26, 1 p.m.
Hear from Wake Forest students and recent graduates as they discuss the exhibition they curated for Reynolda, After Documentary. Due to limited gallery capacity, this talk will be offered twice within the hour.
November 14, 1 p.m.  
Wake Forest students explore the photographs featured in Dorothea Lange's America and discuss their research on photography in America.
Recent Posts
November 30, 2021

November 29, 2021

November 29, 2021