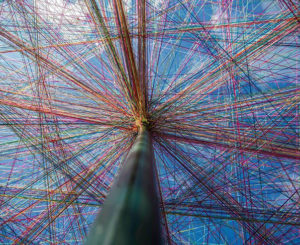 Wake Forest University students, faculty and staff are invited to participate in a UNITY project to create an interactive public art project celebrating uniqueness and strengthening ties to one another.
This larger-than-life structure is intended to raise consciousness about the labels people give themselves and others and to explore how these labels both support and limit opportunities to build interconnected, interesting communities.
The project is 41 feet in diameter and consists of 32 15-foot posts each marked with an identifier. Examples include: I'm a parent. I speak English as a second language. I identify as LGBTQ.
Participants tie colorful yarn between the posts that reflect their chosen identities. The yarn intertwines to create a web and is a physical representation that each participant is connected in some way with another.
The UNITY project will be located outside of the front entrance to Z. Smith Reynolds Library. Individuals and groups will be participating at various times between August 16 – 29.
The project will be staffed for participants as follows:
August 16, 17, 20, 21, 22, 27, 28 and 29: 10 a.m. to noon and 3 to 5 p.m.
August 23: Noon to 1 p.m. and 3 to 4 p.m.
August 24: from 9 a.m. to 2 p.m.
Members of the Wake Forest community can participate individually or as a group. Those who wish to participate as a group should contact Shannon Ashford (ashforsk@nullwfu.edu or ext. 4604) for more information.
UNITY is sponsored by Wake Forest's Intercultural Center, the Office of Diversity and Inclusion – Diversity Education, the Office of Wellbeing and a host of campus partners.