Main Content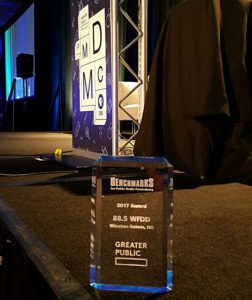 This is a guest post from radio station 88.5 WFDD:
On July 12 at the national Public Media Development and Marketing Conference (PMDMC), 88.5 WFDD was awarded the Benchmarks Station of the Year Award from Greater Public, the development and marketing organization for public media.
Greater Public's Benchmarks for Public Radio Fundraising tracks fundraising performance across the public radio system. The metrics are designed to allow Greater Public, and stations, to make apples-to-apples comparisons of public radio stations' fundraising effectiveness.
Fundraising metrics considered by Greater Public included net membership revenue, which increased by 81 percent; major giving growth of 167 percent; underwriting revenue growth of 36 percent; increase of underwriting sponsors of 52 percent. Only two other top-50 market public radio stations have converted more listening to revenue than 88.5 WFDD.
Judges for this distinguished award were impressed not just with 88.5 WFDD's significant fundraising growth over the past five years, but also with the station's "consistent commitment to better serve its audience and community," Greater Public said.
Molly Davis, 88.5 WFDD Assistant General Manager, was at the PMDMC in Chicago to accept the award on behalf of the station.
"This award reflects several years of hard work by the many talented individuals who make up the 88.5 WFDD team," Davis said. "Five years ago, we devoted ourselves not only to serving our listeners better, but to fundraising more effectively and efficiently, to support that increased and more robust service. We're deeply honored to be recognized by our colleagues at Greater Public, an industry organization that understands the challenges facing the entire public media system today."
Recent Posts
August 6, 2020

August 5, 2020

August 5, 2020