Main Content
This story was written by Kim Underwood for the Winston-Salem/Forsyth County Schools website and features both Graylyn Conference Center and senior sociology major Blake Robinson as Santa…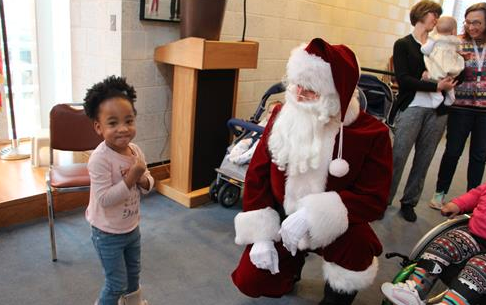 For many years, the folks at Graylyn Conference Center have invited everyone at The Children's Center over for a holiday party.
The Children's Center sits on the edge of the estate's grounds, and, most years, a procession of students and staff members make their way across the grounds to the historic home.
On Wednesday, though, a steady rain was coming down. So, this year, Graylyn took the party to The Children's Center.
As Santa waited for the students to come into the room where the party was being held, he said – when asked whether he had any suggestions for those wondering what cookies to leave out for him on Christmas Eve – he's partial to those thumb-print sugar cookies with a Hershey kiss in the middle.
When Santa isn't being Santa, he is Blake Robinson, a Wake Forest University student who plans to go to law school. Santa has school system connections. When he was in middle school, he went to Hanes, and, in high school, he went to Reagan.
Recent Posts
July 14, 2020

July 13, 2020

July 13, 2020