This is a guest post from the Secrest Artists Series: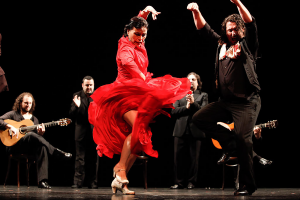 The Secrest Artists Series will present Noche Flamenca on Oct. 19 at 7:30 p.m. in Brendle Recital Hall (Scales Fine Arts Center).
Hailed by critics everywhere for its colorful and deeply emotional performances, Noche Flamenca is today's most authentic touring company in the field of flamenco—the thrilling national dance form of Spain. Formed in 1993 by Martín Santangelo and his Bessie award-winning wife, Soledad Barrio, Noche Flamenca regularly tours around the globe, including performance seasons in New York City and Buenos Aires.
Due to the popularity of this performance, the Secrest Artist Series encourages you to arrive early for the best seating selection. Doors open at 7 p.m.
Enrich your concert-going experience by joining a pre-performance talk at 6:40 p.m. in M208, adjacent to Brendle Recital Hall. This evening's talk will be led by José Luis Venegas, associate professor of Romance languages and interdisciplinary humanities. His lecture explores the role of flamenco music and dance in Spanish history and culture. It traces the genre's development and discusses how it has been transformed by the social, cultural, and political forces that have shaped and defined collective identities in Spain and its southern region, Andalusia, from the late 1800s to the present. A block of seats will be reserved for those who attend the pre-performance talk.
Tickets for the community are $5-$24. Festival seating; Doors open at 7PM.
Wake Forest University and Medical School faculty, staff and retirees receive free admission for themselves and one guest to each Secrest Artists Series performance. Wake Forest students and Medical School students receive free admission for themselves. Simply show your Wake Forest I.D. at the door.
More information at secrest.wfu.edu or 336-758-5757.