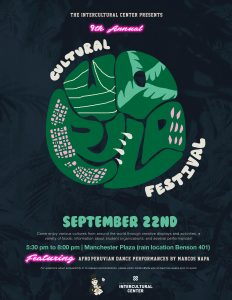 The Intercultural Center will present the 9th Annual World Cultural Festival Sept. 22 at Manchester Plaza from 5:30 p.m. to 8 p.m.
Admission is free and the event is open to students, faculty, staff and others.
The festival is an annual celebration of difference intended to unite, inspire and entertain the entire campus community, according to organizers.
Features of the festival include creative displays and activities, a wide variety of cultural foods, information about different cultural groups and various performances.
In the event of rain, the festival has a rain location: Benson University Center, Room 401.
For more information, email Ja'Mahl McDaniel at mcdani@nullwfu.edu.