Main Content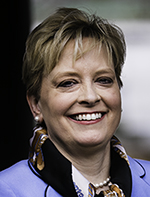 The National Association of Educational Procurement (NAEP), the nationwide organization focused exclusively on procurement in higher education, has announced the election of Rosey Murton, director of procurement services at Wake Forest, to the office of president, effective immediately. Installation of officers occurred at a ceremony held during the association's 96th Annual Meeting in Reno, Nevada, March 26-29.
Prior to joining Wake Forest, Murton was executive director of the Illinois Public Higher Education Cooperative, housed at the University of Illinois, where she served as director of university sourcing and assistant director of strategic procurement. She has also worked as a contract portfolio manager for the State of Illinois and in the private sector.
In addition to serving on the NAEP Board of Directors for the past three years, Ms. Murton served on the association's Professional Development Committee and presented programs at both its national and Great Lakes Region meetings.
Murton graduated from the University of Illinois at Urbana-Champaign with a B.A. and MBA and has earned the professional certifications CPPO and CPPB.
Recent Posts
August 6, 2020

August 5, 2020

August 5, 2020