This is a guest post from the School of Business: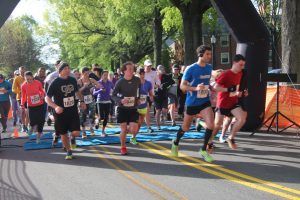 Students at the Wake Forest University School of Business have planned all semester for the second annual Fit for Business 5K. The run/walk will be held April 1, and the course begins and ends at Farrell Hall. Proceeds will benefit Take the Fight to Cancer, a non-profit dedicated to improving the lives of cancer patients and their families.
"We selected Take the Fight to Cancer because one in two people will be diagnosed with cancer in their lifetimes," said accounting major Krissy Wang (BS '18). "This organization gives patients an edge against cancer by providing informational and emotional support. Fighting cancer is fighting for humanity, which aligns with our School's Pro Humanitate viewpoint."
"We are grateful to collaborate with the Wake Forest School of Business and look forward to the Fit for Business 5K. What a fun way for race participants to be active both physically and philanthropically," said Bonny Morris, Take the Fight's CEO. "This fundraiser will make a huge impact on the lives of patients in Winston-Salem."
The group pairs Wake Forest University students and recent graduates with cancer patients at Wake Forest Baptist's Comprehensive Cancer Center. The students support patients by attending doctor's appointments and treatments with them, serving as patient navigators to help them through the system. Doctors involved in the project say patients receive better outcomes with this kind of support.
"Running in and of itself has restorative properties, for both mind and body, but it can also provide life lessons. I joined the Fit for Business 5k planning team to make a difference and raise money for a great cause like Take the Fight while being actively involved in something I love," Lucas Prillman (MSA '18) said.  "I have run numerous races, so to be able to see and contribute in the behind the scenes work has been a privilege."
The event is open to the public.
Ready to run?
Register here. Student tickets are $25 and all other tickets are $30. When you sign up, you'll receive a race packet, including a commemorative t-shirt.
If you like to make a difference without sweating, donations are also accepted, contact Amanda Horton for details.
Questions? Contact Amanda Horton.