Allison McWilliams, director of mentoring and alumni personal and career development in the Office of Personal and Career Development, writes occasional articles for Inside WFU.  This is the third for the spring semester.  In each, she shares observations and suggestions with faculty and staff from her professional experience with students.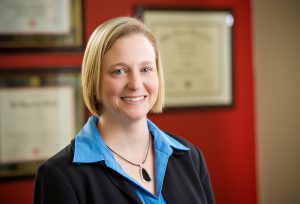 Effective mentors facilitate their mentees' abilities to create and work towards specific learning goals. They do this by asking questions, providing objective feedback and guidance, and serving as a connector to opportunities and resources. Serving as a connector is one of the key strategies that we have identified in our Mentoring Learning Outcomes and can be one of the easiest and most effective ways that you can support your mentee.
From a career development perspective, finding a job and building a career today is as much about who you know as it is about what you know. Additionally, both research and practice demonstrate that we are better off developing networks of people who are willing to help us to achieve our goals, than to rely on one person to do it all. As organizational psychologist Adam Grant notes in his book Give and Take, effective networks, those that contain both strong and weak ties, provide access to private information, diverse skills, and power. As an added benefit, those who willingly provide that access, the givers, tend to be more successful than those who are out for their own gain alone. Being a connector pays off.
The rise of social media tools like Twitter, Facebook, and LinkedIn show the power of effective networks in action. No longer are we limited to our immediate social or professional circles of influence; through the power of technology one can find instant connections with hundreds or thousands of individuals across the globe. One of my favorite social media moments was reconnecting with the very first pre-school friend I had in this world, when I discovered that she was "Facebook friends" with someone whom I know in adulthood. These tools give us the opportunity to put the old "Six Degrees of Separation" game into action on a regular basis.
Being a connector does not require special skills or life experiences. It requires maintaining a healthy curiosity about other people's skills and experiences, and a genuine desire to help others be successful when they need it. The power of effective mentorship lies not in the impersonal distant connection but in the interpersonal exchange of ideas, aspirations, goals, and action plans. Effective mentors open doors and give their mentees the needed push to walk through them. Only by knowing who your mentee is and what his or her goals are, can you know which are the right doors to open.