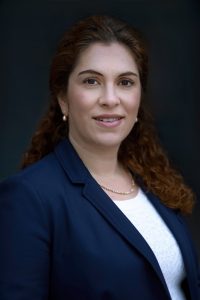 On Tuesday, Wake Forest University announced the appointment of Olga Pierrakos as founding chair of the Department of Engineering. One of Wake Downtown's new anchoring academic programs, undergraduate engineering classes will begin this fall. The following Q&A with her has been edited for length and clarity.
Q: What appealed to you about the opportunity to become Wake Forest's first chair of engineering?
A: It's a great opportunity to start a brand new engineering program anywhere, and starting a new engineering program does not happen every day. The fact that it's happening at Wake Forest, an institution with a renowned national reputation in the context of an authentic liberal arts education is a tremendous opportunity. It is an honor and privilege for those that get to be part of it, including me.
Q: What is your vision for the engineering department at Wake Forest?
A: My vision is to build a top-notch undergraduate engineering program that others look to as an exemplar model of innovative engineering education. I've learned a lot and grown a lot (from mistakes too) in being a founding faculty member of the James Madison University (JMU) engineering program. It was a once in a lifetime opportunity. To get a chance to build a new engineering program for a second time and at Wake Forest is truly an honor.
When I started as a founding faculty member and as an assistant professor at JMU, it was exciting and scary at the same time. To start a new engineering program at Wake Forest, I am not scared but thrilled. At JMU, I've touched almost every aspect of building a new program: curriculum, hiring, building facilities, accreditation, assessment, recruitment, mentoring, research, etc. At the National Science Foundation, where I am currently serving as a Program Director, I also see the innovations in undergraduate engineering education every day. It's transformational to recognize which institutions are doing things right, which innovations we may choose at Wake Forest and maybe even which ones we can make even better.
I really believe in liberal arts education. How do you produce engineers that don't just have the technical skills to deal with the complexities of the problems they're going to have to face in a global context? How do you teach students to solve problems and understand the needs of humanity, the ethical implications, the responsibility and the privilege that comes with making the kinds of decisions that they will have to make as engineers? They must truly understand the systems they will impact and how their decisions will change the world around them.
Q: How do you envision the engineering program and liberal arts tradition complimenting each other at Wake Forest?
A: Learning theoretical and technical skills as an undergraduate is very important, but that only takes you so far. If you cannot understand the context or the impact of the decisions, then you've missed the point and a great opportunity. To me, it's in balancing the curriculum in knowledge, skills and attitudes that transcend the theory and move into practice. We need to be able to show students what that complex world looks like, and we do that by building partnerships, showing different types of problem solving, valuing diverse perspectives, navigating conflict, communicating clearly and thinking critically.
Q: What are your top three priorities for building the program?
A:
Hiring the right people. If we lay a strong foundation with the people who are hired to build this program, then that's a big advantage that we will have. We want to hire people who truly get it and have the energy to do something unique and innovative, people who are excited and understand this is going to be a lot of work. Together – with the right values that we set in place and the right culture – it will be very rewarding.
Designing a strong curriculum. We want to design a curriculum that aligns with the culture that we're trying to establish as an engineering program, allows innovation to constantly take place, and has all the right pieces so we can continually improve it. It doesn't mean we're going to get it all right the first time, but if we have the right process in place that allows us to be agile and continually improve what we do, then that's the key to innovation. Continuously transforming who we are and what we want to become. Flexibility, adaptability, and versatility.
Focusing everything we do on the students. The quality of what we design and what we build will be based on the quality of the product that graduates. So if we keep a student focus and have a student focus in everything we do and how we make decisions, then it will be easier. Having the priority be on our students and how we develop them as the next generation of engineers is very important. What we expect of them as innovators and leaders in engineering, we as faculty must be and showcase so that they learn by not only listening to what we teach them but also what they observe in us and our actions.
Q: Your resume highlighted your experience as a teacher-scholar, with a particular emphasis on mentoring young women interested in STEM. How has the landscape for female engineering students shaped your work and do you have plans to emphasize mentoring underrepresented students in STEM as chair at Wake Forest?
A: Research shows that we produce between 15-20 percent women in most undergraduate engineering programs and a much smaller percentage of minority students. We lose many of these students right after they graduate and many of them never really make it to the workplace as engineers. When you look at the workforce, you're lucky if you get ten percent female engineers and the percentage of minorities is even less. These numbers, despite billions of dollars in investments that have been made, haven't changed much. It's been powerful to be part of these conversations at the NSF and to have knowledge of new initiatives happening at the national level that we are hopeful can make an impact and move the needle.
Motivations to diversify the student population in engineering have been at the core of what I've experienced as a woman going through this journey every step of the way – as an undergrad student, graduate student and even as a faculty member – and also a key research area for me working with psychology colleagues. A key component is to truly understand the culture that we establish in engineering. We cannot lose sight of subtle messaging with the words we use, the actions we take and all of that sends a message to those who are watching, and these are our students who are watching. Change will require collective impact and that is something that has to be ingrained in our culture and in the partnerships we establish.
Hiring the right people who value and respect diversity and inclusion is key.  We are not just talking about the visible and invisible layers of diversity (e.g. gender, ethnicity, socio-economic background, expertise, cultural experiences, etc.), but also the environments and processes we create which must be inclusive of all. To me, it all goes back to the people as the key to innovation and inclusion. Mentoring plays an essential role and we play a role in that!
Read more about how Wake Forest is investing in traditionally underrepresented students – including women and minorities – in STEM.