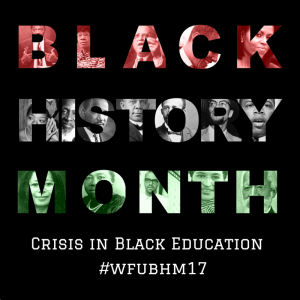 Wake Forest's Intercultural Center and the Black History Month Committee have announced a month of Black History Month events and activities on the center's website.
Kicking off the month will be a Feb. 1 event in The Pit featuring student performers, notable University black alumni displays and cuisine from the African Diaspora.  The event will start at 6 p.m.
The month's keynote event will feature the national co-chairs of the recent Women's March in Washington, D.C.  The event will take place at 7 p.m. Feb. 16 in Wait Chapel.  Participating in a moderated discussion will be Tamika Mallory, Linda Sarsour and Carmen Perez.
Other events and activities planned for February include a Black Professionals Forum; an opportunity to have a conversation with Dr. Greg Ellison, author of "Cut Dead But Still Alive: Caring for African American Young Men," a book; an address by Payton Head, who was the student government president at the University of Missouri during the 2015 campus protests; a dedication ceremony at Maya Angelou Residence Hall; and much more.
For details, visit interculturalcenter.wfu.edu/bhm2017.