Allison McWilliams, director of mentoring and alumni personal and career development in the Office of Personal and Career Development, writes occasional articles for Inside WFU. This is the first for the spring semester.  In each, she shares observations and suggestions with faculty and staff from her professional experience with students.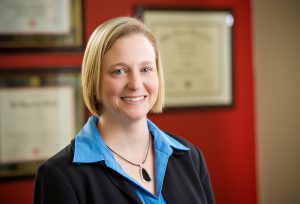 In 2015 we created a set of Mentoring Learning Outcomes that describe the practices and strategies that effective mentors employ in their mentoring relationships. Throughout spring semester in this space we will be exploring four of these key strategies, beginning with the practice of storytelling.
One of the first and most important roles of an effective mentor is to actively create a supportive, intentional relationship with his or her mentee. This relationship should be based on mutual trust, respect, and accountability and create a safe space for the mentee to work towards personal learning goals. A key strategy that effective mentors use to establish and maintain that safe space is the act of storytelling.
In a previous post we discussed how storytelling can set the stage for belonging with students, helping them to connect to shared experiences and lessen feelings of isolation and the imposter syndrome. In telling their own stories, and sharing their own experiences, mentors role model for mentees this act of disclosure and actively demonstrate that the mentoring relationship is a space to be vulnerable and to share challenges and successes. Some of our best learning moments come from direct experience; by encouraging students to reflect upon their experiences mentors improve students' abilities to make those connections.
The act of storytelling in a mentoring relationship walks a fine line between disclosure of one's own story and eliciting the stories of the other. Say too little and the mentee is not going to feel comfortable speaking up and being completely open and honest. Say too much and you risk dominating the conversation and robbing the mentee of his or her ability to learn from his or her own experiences. No one, after all, likes the person who is always starting a conversation with, "Back when I was a student…"
When I think of someone who is a master at getting other people to share their stories, I often think of Terry Gross, the host of NPR's Fresh Air. In this New York Times profile piece she notes, ''I try not to make it about me. I try to use my experiences to help me understand my guests' experiences, but not to take anything away from them.'' This is, I think, great advice for any mentoring conversation, as well. Use your experience to create a safe space and to build trust, but always keep the focus on the mentee.