Main Content
This is the fifth of a series of pieces written about Wake Forest community members who are committed to WakeUnited, the United Way campaign at Wake Forest.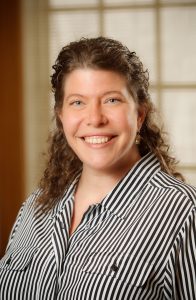 Vicki Keslar's drive to help others succeed is clear, not just through her work at the Office of Personal & Career Development (OPCD), but also through her involvement in WakeUnited.
As operations manager for OPCD at Wake Forest, she helps students find meaningful careers that reflect their values and allow them to become involved members of the community.
Through her investment in WakeUnited, Keslar works to support the success of all who live in Forsyth County.
"It all goes back to community and the responsibility of each of us to do what we can to continue improving it, not only for ourselves but for our neighbors as well," Keslar says.
She feels fortunate to live and work in a community that understands how the United Way supports local agencies that help people in need.
"The United Way provides hope for the people in our community who, often, do not feel like there is any left," she says. "They provide opportunities that have seemed unlikely or impossible."
Keslar has been involved with the United Way since she started working at Wake Forest University in 2009; this is her third year as a member of the Women's Leadership Council. She sees the university's support of the United Way as a "natural overlap" with its vision of shaping ethically informed leaders to serve humanity.
It is an opportunity to take our university's spirit of Pro Humanitate and broaden it beyond our campus," she explains. "It is the support from our fellow Wake Forest friends that make such important investments in our community possible."
The 2016 WakeUnited campaign encourages faculty and staff to pledge support for United Way and its critical mission in the community. A personalized pledge link has been sent to your email, or you can make your pledge at unitedway.wfu.edu.
Recent Posts
June 3, 2020

June 2, 2020

June 2, 2020