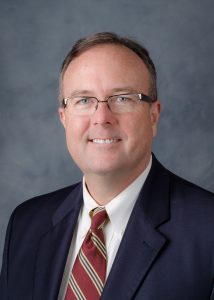 Brandon Gilliland has been promoted to vice president for finance at Wake Forest.
Gilliland has served as the University's controller since he joined the University's staff in 2007, with primary responsibilities over accounting and financial reporting, internal controls and financial operations.
His promotion to vice president is in recognition for increased responsibilities he has taken, including leadership over procurement, finance systems, investments and debt management, campus financial services, risk management and staffing multiple Board of Trustees committees such as the Finance, Investment, and Audit & Compliance committees.
"I am grateful for my time at Wake Forest, for the opportunities to increase my contribution toward the University's mission, for working with so many Wake Foresters committed to the University's values and future, and for leading a talented Financial Services team," Gilliland said.  "I am also grateful for the guidance and support (Executive Vice President) Hof Milam has provided to me over the years. He has provided me with many opportunities and has been a great mentor."
Gilliland added that in Financial Services, the department strives "to deliver highly valued financial and business services benefiting the University's mission, financial objectives and our community."
"In my new role, innovative and efficient business solutions will continue to be a high priority with an intense focus to further improve our services," Gilliland said.
Gilliland formerly was controller at the University of North Carolina at Charlotte and worked in various positions at Indian River Community College, Ernst and Young, Oklahoma State University at Tulsa and the City of Tulsa.
He received a Master of Business Administration degree at the University of Tulsa and a Bachelor of Business Administration degree at Northeastern University.
Recent Posts
December 7, 2021

December 3, 2021

December 3, 2021