This is the third of a series of pieces written about Wake Forest community members who are committed to WakeUnited, the United Way campaign at Wake Forest.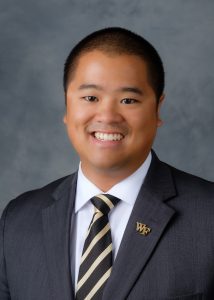 As alumni coordinator at Wake Forest, Anthony M. Tang is responsible for the execution of Pro Humanitate initiatives across the country. His involvement in WakeUnited is a natural extension of that desire to help others.
"The United Way focuses on how we can be a part of positive changes in our community and the ways in which we can provide a positive influence for the people of Winston-Salem," Tang explains.
Since graduating in 2011 with a bachelor of arts in communication, Tang has continued to be involved in the University community. In 2014 he joined the Office of Alumni Engagement, and that same year, he created the Wake Forest Athletic Band Fund to help pay for the band to travel to sporting events.
Tang chose to invest his time in United Way because of its outward focus. "A truly inclusive society begins in our local communities, and the work the United Way is invested in seeks to bring different, unique and dynamic people together to make a positive difference in Winston-Salem."
Tang sees the partnership between Wake Forest University and United Way as an opportunity to be a catalyst for positive change in the Winston-Salem community. "At Wake Forest, we are focused on making better people. Our desire is to see everyone grow academically, professionally and personally," Tang says. "These same traits can be applied to the United Way."
He adds, "This is our opportunity to show Winston-Salem how truly invested we are in the city in which our university is located."
 The 2016 WakeUnited campaign encourages faculty and staff to pledge support for United Way and its critical mission in the community. A personalized pledge link has been sent to your email, or you can make your pledge at unitedway.wfu.edu.