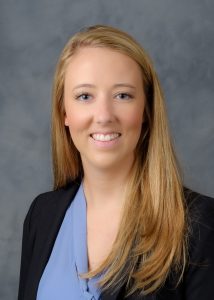 This is the second of a series of pieces written about Wake Forest community members who are committed to WakeUnited, the United Way campaign at Wake Forest.
When Kathleen O'Rourke was in college she got a firsthand look at the difference community organizations make.
"During college I volunteered with Big Brothers Big Sisters," says O'Rourke, Human Resources representative at the University. "Having the opportunity to see the incredibly positive impact that organization had on youth within the community, I knew I wanted to continue to be a part of something equally inspiring after I graduated."
Big Brothers Big Sisters, a volunteer supported mentoring network focused on helping children who face adversity, was a United Way agency. When the opportunity came to become involved with the United Way through WakeUnited, O'Rourke jumped at it.
"I knew that was my opportunity to engage in an organization that also helps empower communities to thrive," she says.
She believes that United Way's focus on innovation and collaboration is especially important, as no single organization can address all the challenges Forsyth County and the rest of the Triad face. That mirrors the University's focus on finding innovative ways to provide people in the community with the resources they need to succeed.
"The United Way is always brainstorming ways to collaborate with local partners in an effort to obtain the most success possible," she notes.
As a member of the United Way campaign cabinet, O'Rourke now has an opportunity to multiply the impact of her community engagement at the University. She would like you to join her.
"No matter how small or large your donation may be, ultimately, you are still making a difference in the lives of those around you," she says. "We all have the chance to be a part of something that will strengthen our community."
The 2016 WakeUnited campaign encourages faculty and staff to pledge support for United Way and its critical mission in the community. A personalized pledge link has been sent to your email, or you can make your pledge at unitedway.wfu.edu.