Main Content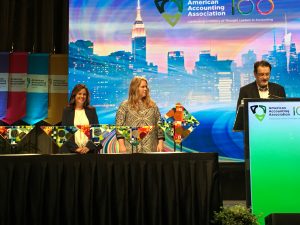 This is a guest post from the School of Business:
Norma Montague, assistant professor of accounting in Wake Forest's School of Business, received the Issues in Accounting Education Best Paper Award at the AAA annual meeting in New York City on August 10. Montague, at the far left in the photo, co-authored "Witnessing Your Own Cognitive Bias: A Compendium of Classroom Exercises" with Rebecca G. Fay of East Carolina University. The award is presented to the best paper published each calendar year.
The case contains a collection of exercises that enables faculty members to teach students how to identify bias in their own judgements. It highlights five frequently occurring biases that may cloud business judgements, using psychology literature to spark student interest.
AAA is an organization of more than 7,000 members around the world and is celebrating its centennial year.
Recent Posts
May 28, 2020

May 22, 2020

May 20, 2020