Main Content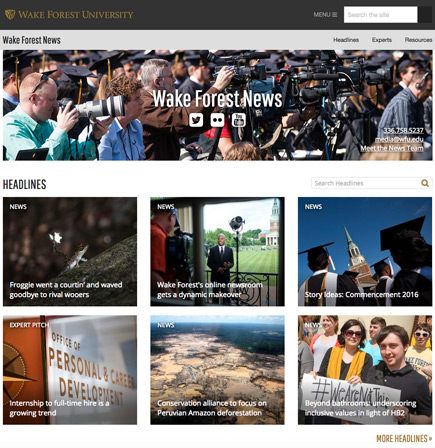 This week, Wake Forest introduced a new and improved online newsroom (news.wfu.edu) to deliver newsworthy content in a visually-compelling, mobile-responsive and easy-to-navigate design.
"The primary goal of redesigning our online newsroom has been to help journalists covering Wake Forest to do their jobs quicker, easier and better," said Katie Neal, executive director, news and communications. "Now news.wfu.edu is the digital extension of our team's guiding philosophy: make telling Wake Forest stories a positive experience for news media by providing them as much content, access and support as possible."
The online newsroom is the first phase of a multi-year effort by the Office of Communications and External Relations to focus on content marketing and responsive design in order to enhance the University's storytelling efforts across all platforms. While journalists are the primary audience for the online newsroom, many of the stories told at news.wfu.edu will be of interest to a wide range of audiences interested in Wake Forest and may provide informative content for prospective students, parents, colleagues, alumni and donors visiting departmental or administrative websites.
Key features and benefits of the enhanced online newsroom include:
Headlines – A modular design clearly showcases the single source for University announcements, story ideas, videos, photos, expert pitches and more.
Experts – Searchable by keyword or name, an updated expert directory, powered by ExpertFile, features faculty and staff who can offer informed perspectives and commentary on a range of timely topics.
Popular Stories – This one-stop-shop centralizes the most important information about stories frequently of national interest, such as test-optional admissions and career development.
Election Experts – Representing a wide range of academic areas, this collection features faculty who can share their expertise on a variety of election-related topics.
Resources – Information about Wake Forest's broadcast TV studio, ISDN radio access, directions to campus, logos and more can be found here.
In addition, it is easier than ever to access b-roll or download an image directly from a story, find the right media relations contact for a particular topic, share content on social media or subscribe to weekly coverage reports.
Got a story idea? Connect with the Wake Forest News team in a variety of ways:
Sending an email to media@

null

wfu.edu typically prompts the quickest response because all members of the Wake Forest News team will receive the message.
Contacting an individual team member by phone or email is also an option. (Please note that Inside WFU submissions have a different process overseen by Kevin Cox and Priscilla Wood-Parker.)
Tagging @WakeForestNews on Twitter often prompts retweets – a great way to spread Wake Forest scholarship and expertise.
Recent Posts
May 22, 2020

May 20, 2020

May 19, 2020