Main Content
This is a guest post from the Student Health Service:
After 16 years, the George C. Mackie Student Health Clinic is getting a major upgrade.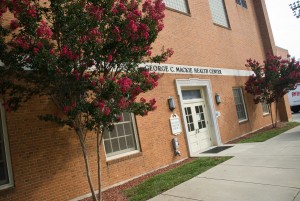 As part of the Reynolds Gymnasium renovation project, the Student Health Service will be temporarily relocated while their new clinic is being built.  The new clinic should be open in fall 2017.
Student Health will close its existing clinic doors on Thursday, May 5.  On Tuesday, May 24, Student Health will operate out of a modular clinic on North campus, Lot Q, near Dogwood Residence Hall.  This modular clinic was custom designed and built to allow Student Health to continue to offer the services that our Wake Forest Student need.  Student Health will be open in time for both summer sessions and operate on their normal summer schedule seeing patients from 8:30 – noon and 1:30 p.m. – 4 p.m. Monday – Friday.  Appointments can continued to be made online, through the patient portal, accessible via the student health website shs.wfu.edu.
Typically, summer volume at Student Health is much lower than during the academic year.  This will afford the clinic a couple of months to fine tune policies, protocols and procedures to ensure efficiency in the fall.
In the fall, clinic, pharmacy, lab, psychiatric and case management resources will not be impacted.  Student Health will have clinic hours during the weekdays and a nurse will be on site (with a physician on call) after hours and on weekends.  Telephone numbers for the clinic will not change.  We invite all students, faculty and staff to come see our temporary space and say hello anytime this summer.  If you have any questions please contact Darren Aaron, Associate Director, SHS ataarondo@nullwfu.edu.
Recent Posts
August 6, 2020

August 5, 2020

August 5, 2020