Main Content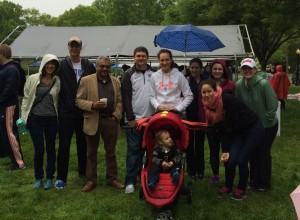 This is a guest post from the Department of Communication:
Department of Communication faculty are helping add tomorrows for the thousands of Americans living with cystic fibrosis by joining the department team to walk in the Great Strides Walk on campus Saturday, April 23, at 10 a.m. on Davis Field.
Last year, the team raised $2,500. Department Chairman Allan Louden with his dog, Glacier, as well as Ron Von Burg, Alessandra Von Burg, Ananda Mitra, and other faculty and students will participate in the walk.
The faculty and students are involved to support graduate student Michael White, according to Alessandra Von Burg.
"We are walking for Michael to give even more tomorrows for the moms, dads, sisters, brothers, daughters, sons, friends and co-workers who struggle every day just to breathe," said Alessandra Von Burg. "Michael is a CF parent who is committed to showing his son that all lives matter and that there are countless people willing to support him and the thousands of others living with cystic fibrosis."
1. Register to walk with the team at http://fightcf.cff.org/goto/WakeCommunication.
2. Donate to the Cystic Fibrosis Foundation in a team member's name athttp://fightcf.cff.org/goto/WakeCommunication or through a team member's personal page (i.e.http://fightcf.cff.org/goto/WFUMichaelWhite). Donations are tax-deductible.
To learn more about CF and the CF Foundation, visit www.cff.org.
"This is a great opportunity for us to show support and solidarity with our campus and the broader Winston-Salem community. Please join us in our efforts to fight this devastating genetic disease!"
Recent Posts
August 6, 2020

August 5, 2020

August 5, 2020