Main Content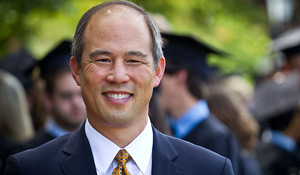 Andy Chan, vice president of personal and career development, will participate in a live discussion on "The Diane Rehm Show" on navigating the transition from school to the workplace. The show will air Thursday, April 14, from 11 a.m. to noon. Listeners can join the live program on "The Diane Rehm Show" website. The discussion will also be archived and available to listeners after the program.
Local and regional listeners can tune in to the program on 88.5 WFDD, the Public Radio Station for the Piedmont, located on the Wake Forest University campus, at 11 a.m. WFDD is providing studio space and technical support for the interview.
With graduation season just around the corner, students throughout the country are preparing to transition into the workplace. Chan will join a panel of experts who will be looking at the challenges new grads face and how to address them.
Other guests include:
Jeffrey Selingo, regular contributor on higher education, the Washington Post; author, "There is Life After College: What Parents And Students Should Know About Navigating School To Prepare For The Jobs Of Tomorrow"
Anthony Carnevale, director and research professor, Center on Education and the Workforce at Georgetown University
Kristen Hamilton, CEO and co-founder, Koru — a company offering immersive training programs to get college graduates job ready
As a national leader in rethinking the college to career experience, Wake Forest has been at the forefront of transforming the traditional, outdated concept of "career services" into a holistic, four-year approach to personal and career development. Ever since Wake Forest convened Rethinking Success, a 2012 conference that highlighted the value of a liberal arts education for 21st Century careers, the University – as well as its career and mentoring experts – have been featured in The New York Times Magazine, Wall Street Journal, The Washington Post, Today, Money, Business Insider, Fast Company, Forbes, CNN and USA Today as well as higher education publications such as The Chronicle of Higher Education and Inside Higher Ed.
"The Diane Rehm Show" is a National Public Radio call-in-show based in the United States. In October 2007, "The Diane Rehm Show" was named to the Audience Research Analysis list of the top ten most powerful national programs in public radio, the only talk show on the list. The show, produced by WAMU, and hosted by Diane Rehm, is estimated to have more than 2 million listeners.
"Navigating the Transition from School to the Workplace" is archive online on "The Diane Rehm Show" website.
Recent Posts
July 2, 2020

July 2, 2020

June 30, 2020