Main Content
Allison McWilliams, director of mentoring and alumni personal and career development in the Office of Personal and Career Development, writes occasional articles for Inside WFU.  This is her fourth and final article for the spring semester.  In each, she shares observations and suggestions with faculty and staff drawn from her professional experience with students.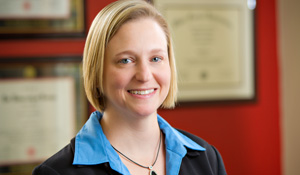 We started this year talking about the important and sometimes challenging process of transitioning into the school year. Whether you are a senior, a first-year, or something in between, transitions can be hard, as William Bridges reminds us. Transitions require letting go of the familiar, spending a bit of time in free-fall, and then attaching to something new and unfamiliar. For some, this is an exciting time, full of new challenges and adventures. For others, it's overwhelming, scary, even debilitating, for the same reasons. Everyone goes through transitions in his own way, at his own pace.
The end of the year, and the transition out, is no less important and yet easy to overlook. This is a great time to help your students take stock of their years, practice a bit of reflection, and think forward to what comes next. Some questions you might consider asking:
What has been the best/most challenging part of your year? Why? What did you learn from it?
What do you wish had gone differently this year? Why? What do you do with that information moving forward?
What are you most proud of from this year? Why?
What is one thing you would like to accomplish this summer/over the next six months? What steps are you going to take to make that happen?
What can you anticipate that will be challenging for you this summer/over the next six months? What strategies can you use to work through that?
Transitions are hard in part because we all want someplace where we feel that we belong. As a mentor, you can help students with this process:
Ask how they are feeling about the transition.
Acknowledge that their experience is normal.
Help them set goals to create focus and an actionable plan.
Remind them that they have been in this place before and they have all of the tools that they need to be successful.
Every experience, no matter how big or small, has a beginning and an end. Mentors help us to discover whether these moments of transition will be stumbling blocks or stepping stones
Recent Posts
August 6, 2020

August 5, 2020

August 5, 2020