Main Content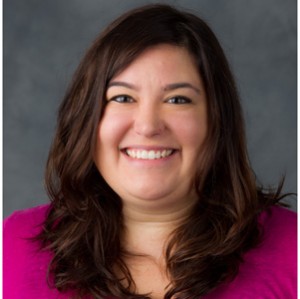 Marianne Magjuka has been named an assistant dean of students and director of democratic engagement and justice programs.
"This appointment acknowledges Marianne's strong contributions to the community and organizationally strengthens the partnership between the Pro Humanitate Institute (PHI) and Division of Campus Life," according to an  announcement by PHI and Campus Life. "Both areas share a commitment to providing meaningful social justice, civic engagement, and inclusion programs and initiatives for the university community."
Magjuka will have a dual report to the executive director of PHI and the dean of students/associate vice president for Campus Life and will serve on the leadership teams of both areas.
In her current role as PHI's director of democratic engagement and justice programs, Magjuka has directed social justice programs and overseen civic and democratic engagement initiatives. She has also directed sustained dialogue for students and staff for the Division of Campus Life and coordinated deliberative dialogue training and planning. Magjuka has also contributed to a number of university initiatives, including serving as co-chair for the Civic Learning and Democratic Engagement Task Force.
As an assistant dean of students and director, Marianne's new responsibilities will include:
–providing leadership for Campus Life staff development initiatives designed to develop staff capacity to provide meaningful social justice and diversity and inclusion programs throughout the organization
–providing leadership for programs that offer incoming students the opportunity to engage in meaningful dialogue across differences
–providing services for students and their families experiencing personal, medical or mental health-related crises with focus on community education and response for campus climate and bias-related incidents
Magjuka first joined Wake Forest in January 2011 as the director of Campus Life. Previously, she served as the assistant director of community service and service-learning at Baylor University, and coordinated an AmeriCorps*VISTA program based at Florida State University. Magjuka received her B.A. and M.Ed. from the University of Notre Dame.
Recent Posts
May 22, 2020

May 20, 2020

May 19, 2020